Help
Installing and troubleshooting the plugin.
Installation
Within WordPress
Log in to your WordPress admin panel.
Go to Plugins > Add New.
Search for "Auction Nudge".
Click Install Now next to Auction Nudge.
Confirm OK in the dialogue box.
Once the plugin has been downloaded and installed, click Activate Plugin.
The plugin is now installed and activated.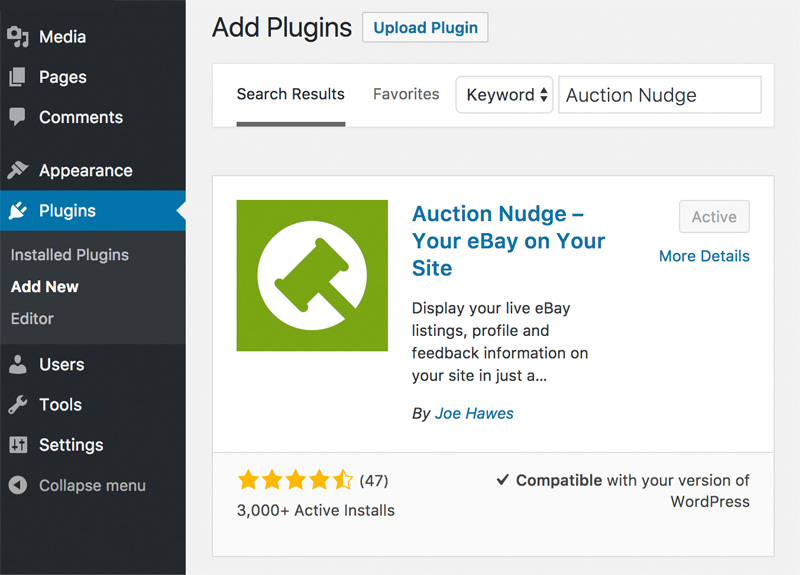 Manual Installation
Download and unzip the plugin.
Upload the auctionnudge directory to /wp-content/plugins/.
Activate the plugin through the Plugins menu in WordPress.
FAQ (Frequently Asked Questions)
Nothing is Displayed, What's Wrong?
If Auction Nudge is not displaying anything at all, try these steps:
Check your setup – Watch the walk-through video and double check you have everything set up correctly.
Check for ad blockers – A common reason for Auction Nudge not loading is the use of ad blocking browser plugins (like Adblock Plus). If you are using such a plugin, disable it, or add an exception to see if Auction Nudge loads without it.
Disable the caching option – By default, Auction Nudge utilises the in-built WordPress caching mechanism to deliver Auction Nudge content, increasing performance. Go to Settings > Auction Nudge > Use WordPress Cache? and change this setting to "No" (don't worry, other caching mechanisms are still in place).
Check for console errors – Another reason for Auction Nudge failing to load on your page is Javascript errors from other scripts. You can check for these in your browser's error console.
If you have followed the steps above and your issue has not been addressed, report it here.
What Does This Error Mean?
Auction Nudge errors are usually displayed when the plugin has not been setup correctly. The following steps should do the trick:
Watch the walk-through video and double check you have everything set up correctly.
Ensure you have entered the correct options (i.e. triple check your eBay username is right!).
Read through the full Auction Nudge Help section.
If you have watched the video, read the above pages and your issue has not been addressed, report it here.
How Often Does Auction Nudge Update?
To reduce server load, Auction Nudge does not update every time it is loaded on your site. The tools update as follows:
These update times aim to optimise server resources by updating the most important feeds (i.e. those displaying active eBay items) more frequently than ones that change only occasionally (i.e. profile/feedback information).
I Can't Display a Tool More Than Once Per Page. How Come?
Auction Nudge only supports one instance of each tool per page on your website. Trying to display more than one instance of the same tool on any page will produce unexpected results.
Please note, this also applies if you are displaying one instance using the shortcode within a page/post and another instance as a widget within your site layout. There is a work-around for this using <iframe>s, but requires some custom coding and generating your own snippets through the Auction Nudge website.
Need More Help?
This was just the help for the WordPress plugin, much more help can be found in the Help section.